A Bee City is a designation that connects people, places, and pollinators. Our commitment is to protect and create pollinator habitats, provide community education, and celebrate our pollinators. Becoming a Bee City means there will be more focus on pollinator conservation within current parks and future urban planning.​
What are Pollinators? 
A pollinator is anything that transports pollen grains from one flower to another. This includes bees, birds, bats, butterflies, moths, flies, wasps, and beetles. Other animals, even people, can also act as indirect pollinators if they brush up against pollen and transport it to another flower. When a pollen grain moves from the anther (male part) of a flower to the stigma (female part), pollination happens. This is the first step in a process that produces seeds, fruits, and the next generation of plants. This can happen through self-pollination, wind, and water pollination, or through the work of animals or insects. (Source: Pollinator.org​)
Canadian pollinators include more than 800 native bee species and other bugs that can be found in both rural and urbanized areas, with cities playing a key role in their survival.
Why are Pollinators Important? 
Pollinators create healthy ecosystems by pollinating about 80 per cent of plants including flowers, trees, fruits, and vegetables, which provide products for people such as food, medicine, clothing, and lumber.
Research from around the world supports evidence that pollinator populations are declining. Climate change, pesticide use, habitat loss, and disease are all contributing factors.
Pollinator Initiatives
The City of Barrie has been active in creating pollinator spaces:
Supporting various habitat installations such as the bee hotel at Sunnidale Park, bat boxes near Harvie Road, at Tall Trees Park and at Bear Creek Eco Park
Installation of pollinator gardens across Barrie: Sunnidale Park, North Centennial entrance beds, Northshore Trail, Allandale Station Park, Hyde Park, and at the Sports Complex
Increasing the number of community gardens and seed boxes in our parks
Continued work to increase naturalized areas within our parks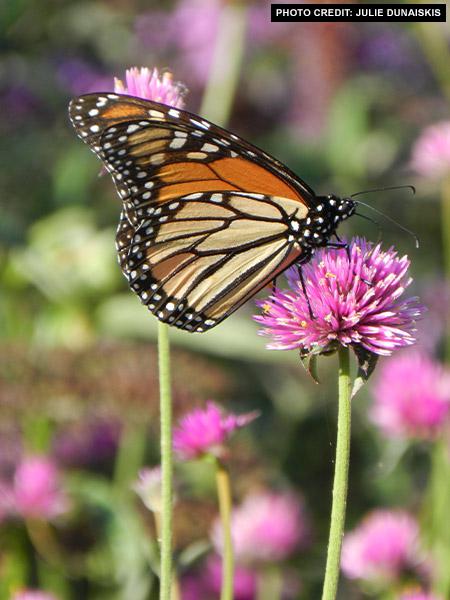 Make Your Yard More Pollinator-Friendly
Plant multiple pollen and nectar-producing native plants that bloom in different seasons to attract a diversity of bees and other pollinators.
Provide nesting places by leaving bare patches of ground for native bees to build nests in soil, or leave hollow stems to attract cavity-nesting bees.
Offer fresh water to pollinators in a shallow dish or birdbath.
Garden without pesticides.
Bats are important pollinators and they help spread seeds. If you want to help bats during the winter, you can build them a house. Bat houses should be 15 ft high, preferably on a post or a building, and located in full sun. Visit batweek.org for more information on how to build a bat house. 
Frequently Asked Questions