Watermain Swabbing in September
Watermain swabbing is happening in select areas of wards 4 & 5 in September 2023. Water services will be affected from 8am to 6pm in the following areas, on the below dates. Notices are hand-delivered in advance to impacted residents. Areas and dates are subject to change.
Learn about Watermain Swabbing Impacts
| Date | Description |
| --- | --- |
| August 30 | Between Browning Trail & Lampman Lane, including Frost Trail, Kipling Place, Barrett Crescent, Mowat Crescent, Charlotte Court, Bronte Crescent, Emily Court, and a section of Leacock Drive. View map of impacted area. This operation was cancelled. |
| September 13 | Between Browning Trail & Leticia Street/Shaw Crescent, including Fitzgerald Lane, Shaw Crescent, Shakespeare Crescent, Orwell Crescent, Carr Drive, Hailey Hollow, and a section of Leticia Street. View map of impacted area. |
| September 20 | Between Livingstone Street West, Irwin Drive & Cundles Road West, including McCron Crescent, Ferguson Drive, Leacock Drive, Geddes Crescent, Nugent Crescent, Delaney Crescent, Longman Drive, and sections of Sunnidale Road and Cundles Street West. View map of impacted area. This area was previously scheduled for September 6 and then September 27. |
| September 27 | Between Cundles Road West, Austen Lane, Chaucer Crescent & Dickens Drive, including McVeigh Drive, Burns Circle, Barrett Crescent, Mowat Crescent, Christie Crescent, Chaucer Crescent, Atwood Court, and sections of Browning Trail and Leacock Drive. View map of impacted area. This area was previously scheduled for September 20. |
The City is fortunate to have access to two sources of drinking water: groundwater from a deep aquifer and surface water from Kempenfelt Bay. Before reaching the consumer this water is treated to protect public health.
Drinking Water Sources
The source of the water that comes out of your tap depends on where you live in Barrie. Groundwater comes from groundwater that is extracted from the ground by municipal wells. Surface water is obtained from Kempenfelt Bay through an intake pipe. Access the interactive Water Supply Zones map to determine the source of water you receive.
Water Treatment Processes
Treatment of water depends on its source. Groundwater is naturally filtered through layers of rocky sediment and therefore requires less treatment than surface water. 
Take a tour of Barrie's Surface Water Treatment Plant! Get tour details.
Water Distribution Infrastructure Maintenance
The City ensures that the infrastructure which directs water to your home is regularly ​maintained. As such, the distribution system, consisting of approximately 4,000 hydrants and 672 km of watermain, continues to reliably direct potable water to the community.​
Water Meters & Shut-Off Valves
Every household, business, and facility connected to Barrie's municipal drinking water system is equipped with a water meter. This device accurately tracks water usage and ensures customers are being billed only for water that has passed through the meter.
Water meters are an important component of the municipal drinking water system. Please ensure your water meter and shut-off valve are always accessible, ready for use in case of an emergency.
Prevent Backflow at Home
Backflow preventers installed on your water outlets ensure that water flows in ONE direction. Through unprotected plumbing connections—such as a lawn irrigations system or hose connections—reverse flow can cause contaminants and pollutants to enter your drinking water system. The Backflow Prevention and Cross Connection Control By-law applies to all industrial, commercial, institutional, and multi-unit residential properties.
Reports
Every year the City prepares reports in accordance with Safe Drinking Water Act regulations:
Hard copies of either ​document can be obtained under request at the Branch Administration Building, 20 Royal Parkside Drive, during normal business hours (8:30am–4:30pm, Monday–Friday)
Bulk Water Requests
The City's Water Operations Branch staff are available to assist residents and contractors with obtaining water in bulk supply.
Water Trailer
The City's water trailer holds enough tap water to fill 2,000 reusable water bottles. The trailer brings free drinking water to various City locations and events from spring to fall.
Did you know? Tap water costs about $0.065/litre while bottled water is $0.80/litre, and a plastic bottle takes over 700 years to start composting.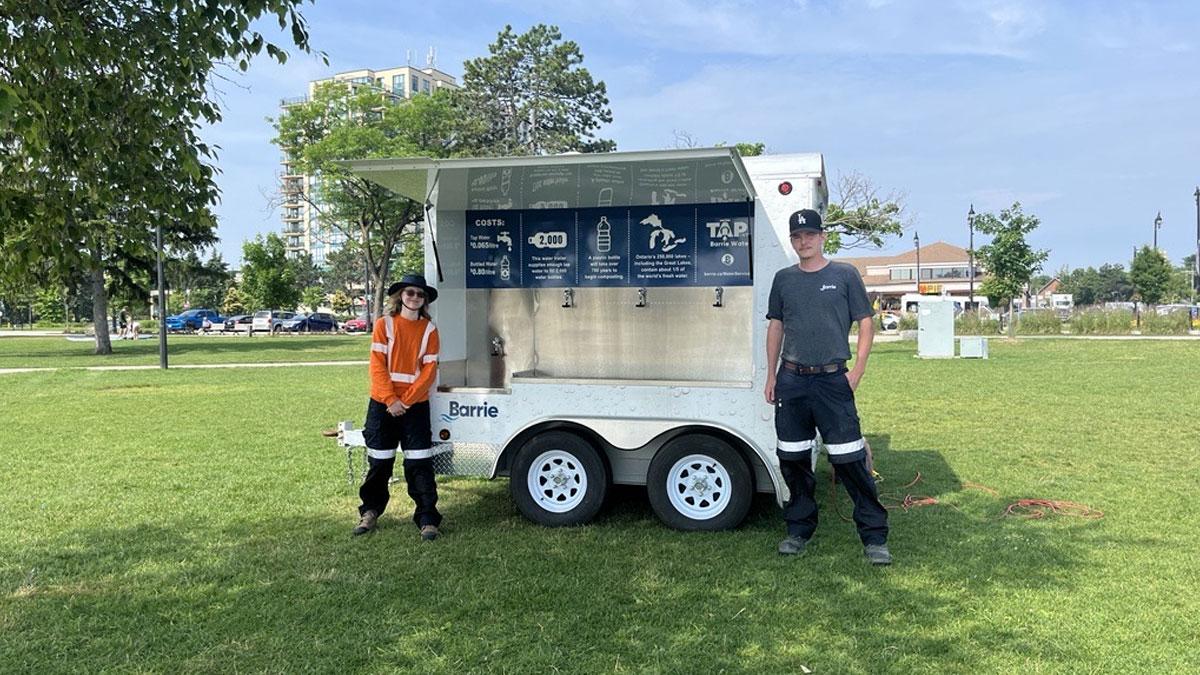 Frequently Asked Questions
General