Lest we forget. This page is dedicated to the local individuals who selflessly fought for our freedom and to recognize their contribution not only to our country, but to our local heritage.
The City of Barrie values its relationship with past and present members of the Canadian Military. We have a long history with our neighbours — Canadian Forces Base Borden — and continue to be a city that many members of the military call home. Remembering those who served our country is an important part of our heritage. We honour their memory in many ways.
Poppies on Street Signs
A poppy — this distinctive red flower is a powerful symbol of remembrance that represents the immeasurable sacrifice soldiers have made for our country. This symbol can be found on the signs of streets that have been named in honour of local war veterans. The poppy is a thoughtful way for their memory to live on in our community and to remind us of the sacrifice others have made for our freedom.
Flags Along Barrie's Waterfront
The City honours, remembers and commemorates Barrie's fallen soldiers by featuring pictures of local veterans on flags each year. The flags were displayed in November, throughout Meridian Place and around the entire waterfront to Tiffin Street. For the 2022 campaign, 24 new flags were added to the series.
The Cenotaph
Barrie's Cenotaph is located in Memorial Square. Installed on June 29, 1922, the Cenotaph recognized soldiers from Barrie, Innisfil and Vespra who were killed in action during World War I. Two slabs adjacent to the central monument have been added over time, along with the names of soldiers who lost their lives in World War II, the Korean War and in Afghanistan.
The Cenotaph is 23 feet high, with a nine-foot tall statue on the top. The crests of the various arms of the service are placed around the monument in the form of shields. During Meridian Place & Memorial Square renovations in 2017, the cenotaph was relocated to a place of prominence within the square.
The site remains a focal point of the downtown and represents a memorial to all who have lost their lives fighting for our country. Every year on November 11 our community gathers around the cenotaph for a Remembrance Day ceremony. Residents, active and retired military members, members of municipal, provincial and national police and emergency services, local business owners, their friends and families, dedicate time to remember the sacrifice of others.
Poppy Crosswalk
On November 9, 2021, new artwork at the crosswalk across from the Cenotaph at Memorial Square was added (at the base of Owen Street). There are three poppies incorporated into the crosswalk. They are 24" in size, and the thermoplastic application will last approximately seven years. The City consulted with Barrie's Royal Canadian Legion Branch, and they are in support of the crosswalk installation as a way to remember our veterans and their sacrifices. ​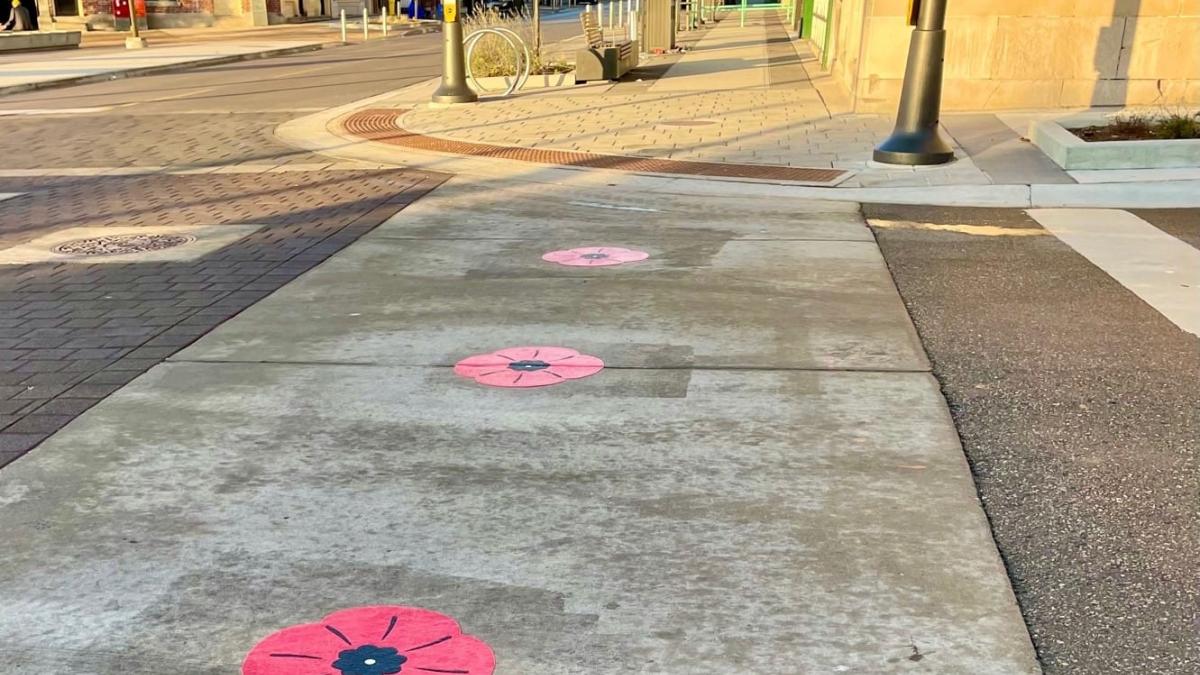 Military Heritage Park
Located on the south shore of Kempenfelt Bay, Military Heritage Park officially opened on October 27, 2017. The passive parkland development recognizes Barrie's military history and ongoing relationships with Canadian Forces Base (CFB) Borden by creat​ing landforms distinct to each era of overseas and national military commitment. 
Barrie's Fallen
From the South African War to present day, many local people gave their lives for our freedom. Please take a moment to remember them. Soldiers honoured with a street name are noted with a poppy next to their name. View map of streets named for soldiers.